Welcome to the M.A.S.S Builder Wiki!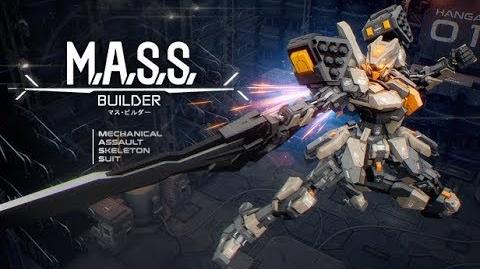 This is a Wiki for M.A.S.S. Builder, a new mech game. We're a collaborative community so anyone, including you, can build and expand. Wikis like this one depend on readers getting involved and adding content. Click the "ADD NEW PAGE" or "EDIT" button at the top of any page to get started!
M.A.S.S. Builder is a Mecha-Action RPG. On September 13, 2019, its Steam Early Access was released. A demo of the game was available prior to its Early Access release.
Please keep in mind that all info on this wiki is from version Demo 0.0.3.
It was supported by more than 3,000 backers through its Kickstarter campaign.
Aspects of Game play
Edit
Battle Simulator
Voyheka Field
Algerah Desert
Nyuya Path
Storm Creek
Tazuq Dunes
Kruzhina Expanse
Close Combat
Bullet Shooter
Energy Shooter
Bullet Launcher
Energy Launcher
*N.B. At this time (September 2019) there are no stat based benefits to having more weight on weapons. More weight will slow your melee swing, increase burn rate and decrease acceleration.
*N.B. At this time (September 2019) increasing weight by equipping different pieces of armor increases armor, but decreases melee swing time, acceleration, and increases burn fuel rate.
Need help building out this community?
You can also be part of the larger Fandom family of communities. Visit Fandom's Community Central!
Community content is available under
CC-BY-SA
unless otherwise noted.